Newly opened, this fantastic restaurant just over the road from Can Prunera serves delicious Spanish/Scandi food in a very pleasant atmosphere.

Every day there is a new dish of the day on offer, with glass of wine or beer, bread, water, dessert and coffee for 12,50 Euros.

Service is super friendly and relaxed. Portions are good and of excellent quality. We loved the water dispensing machine!

Ideal for a quick lunch or dinner with friends.

Can Karlito also sell their own homemade baguettes throughout the day. Delicious.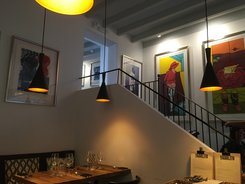 the dish of the day (always delicious)
the fresh baguettes
vermouth
lemon cream dessert (mmmmmm!)