A cool tapas restaurant in the centre of town, just off of the square. Not your normal tapas, though, instead ca'n pintxo offers really creatively put together 'pinchos', canapés, as well as platters of cheese and ibérico ham, squid and steak.

Each pintxo is a beauty in its own right. The mix of ingredients will blow you away. The roasted aubergine with ricotta and caramalized almonds, the octopus with chickpea and curry, the braised pork cheeks in port wine: all carefully balanced on a slice of rustic bread. Delicious!

The young, trendy atmosphere is friendly and relaxing. Service is top.

A great place for dinner with friends. And there are even mini tapas-sized desserts for those with a sweet tooth.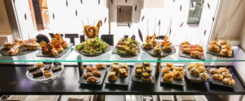 cod and chilli pintxo
local squid with nori mayo
mixed cheese board
all the mini desserts (!)